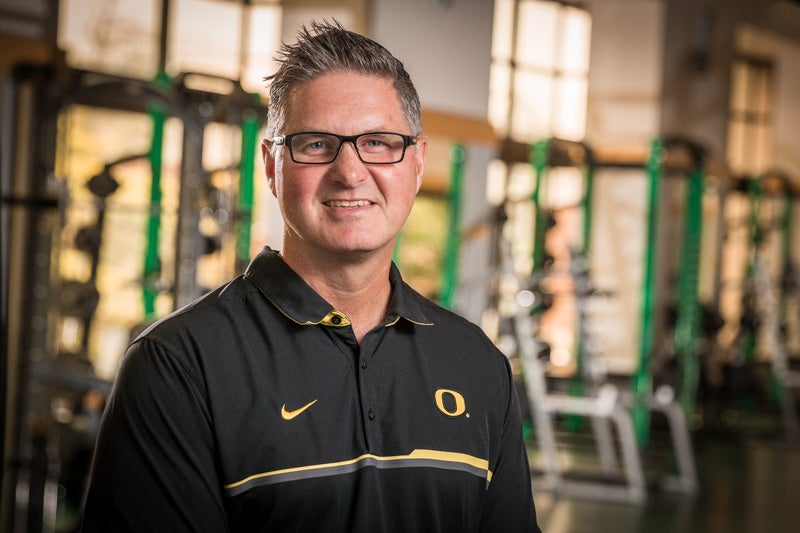 Brent Harrison
Senior Associate Director
Primary Service: Leadership Team, Rec Programs, Student Life Leadership Team, Student Recreation Advisory Board
541-346-1047 E-mail
Ask me about…
All the amazing programs our department has to offer
The SRC expansion
Week of Welcome event we host, called Duck N2 the Rec
Curling
Bio: Brent started working in PE and Rec in the fall of 1993, in the role of assistant recreational sports director and physical education instructor. He has since filled the roles of associate director of programs, interim co-director, and now senior associate director. Prior to joining the team at the UO Brent taught high school physical education in Calgary, Alberta Canada. Brent's educational background is in physical education, he has BS and MS degrees from Bemidji State University, located in the amazing state of Minnesota.
Brent believes that work can be fun and that positivity inspires others to succeed. He loves coming to work every day because of the amazing students and staff he works with day in and day out! Brent believes that recreation plays a role in the recruitment and retention of students; he also strongly understands the important role that physical education classes can provide to students. This strengthens the role and importance of the Department of PE and Recreation in contributing to the overall student experience. This balanced approach of PE and Recreation contributes to our students' success, both in and out of the classroom, and contributes to our department's core purpose of active, balanced lives.
Brent is involved in numerous university committees and department work teams most notability the Student Life Directors Leadership Team and the PE and Rec Leadership Team. Brent is also a member of SRC Student Advisory Board and the faculty/staff representative on the UO Duck Store Board of Directors. Brent received the Region VI Award of Merit and was recognized at the NIRSA annual conference as a professional who demonstrated exceptional performance or dedication to NIRSA or the field of collegiate recreation on a statewide or regional basis.
Outside of work, he enjoys golf, snowboarding, and hiking. Daily he is committed to his dog Rosie who gets at least two or three walks a day. You might not know it by looking at him, but he used to be a Ukrainian Dancer and toured all throughout Canada and the United States. He is also proud to be a Canadian and is a diehard fan of the Toronto Blue Jays and the Winnipeg Jets.
StrengthsQuest Top 5: Positivity, Includer, Adaptability, Harmony, Empathy