The Department of PE and Recreation provides students the chance to enhance their college experience, build a transferable skill set, and help facilitate campus wellness through multiple student involvement opportunities.
---
Student Employment
We employ more than 300 students in a variety of positions each year. Our student staff members come from all types of backgrounds, majors, and walks of life to make up the team responsible for managing the Student Recreation Center facilities, programs, and services. When you join the PE and Rec team, you can expect to gain more from your employment than just a paycheck.
How to Apply
Current open position are listed on Handshake with application instructions, unless otherwise stated below. General recruitment periods and requirements are included under each position description below. If you have specific questions, feel free to reach out directly to the contact listed for that position.
Benefits
Cross-training, leadership, and promotion opportunities
Professional and personal development trainings
Ongoing feedback, coaching, and constructive evaluation
Competitive wages
Employee recognition and celebrations
Flexible scheduling
Dynamic and fun work environment
Positions and Descriptions
Duck Trails Camp Counselor
Camp counselors are responsible for providing direction, supervision, and organization of campers during Duck Trails Camp programs. They facilitate a fun and safe environment for campers by participating in the development and implementation of dynamic and exciting programs and activities.
Recruitment period: Applications for summer 2024 camp counselors will open in March 2024.
Contact Sean Graninger, assistant director for intramural sports and youth camps
Group Fitness Instructor
Group X fitness instructors and coaches design and lead group workouts in various formats including cardio (F45 Cardio, Zumba, Cycling), muscular conditioning (F45 Strength, Webfoot CrossFit, Body Sculpt, Barre) and mind/body (Yoga Flow and Meditate, Yoga Strength Flow), and help plan and implement private workout class requests and special events.
Requirements and Expectations:
Successfully complete PE Group Fitness Instructor course, PEF 342 (or similar training experience).
Obtain national certification through an accredited agency (ACE, NASM/AFAA, or other NCCA accredited organization).
Demonstrated experience leading group fitness workouts.
Commit to working with UO PE and Rec, Duck Fitness Community for a minimum of three terms for two to four hours per week, and attend fitness team meetings and other requirements of employment.
Recruitment period: Winter term instructor course offering (PEF 342), spring term weeks 1 and 2, applications open on Handshake.
Contact Jessica Campbell, senior assistant director for well-being and fitness
Intramural Sports Official
Intramural sports officials officiate games for various sports including flag football, volleyball, basketball, soccer, softball, and floor hockey. Officials are hired for each intramural sport. They must be able to correctly implement policies and procedures in order to maintain a fair and safe environment. No experience is necessary; training sessions are provided.
Recruitment period: first two weeks of each term
Contact Nikki Vance, coordinator for intramural sports and youth camps
Lifeguard
Lifeguards are responsible for ensuring the safety of patrons using the pools through recognition, response, and rescue. They must maintain constant visual contact with the water, including dedicated attention to the activity in and around it. They are required to hold current StarGuard Lifeguard Certification. If you are not currently certified, complete a StarGuard Lifeguard course (PEAQ 351) before applying for the position.
Recruitment period: ongoing
Contact Jackie James, assistant director for aquatics, or Bev Bray, coordinator for aquatics
Operations Attendant
Operations attendants dispense athletic equipment, towels, and locks as well as aid patrons with facility and program related information, and ensure a safe and clean facility. Attendants also assist with laundry operations that provide service to the Student Recreation Center and customers outside of PE and Rec while working in Equipment Issue. Attendants also ensure patron safety in all fitness areas, maintain clean fitness areas and equipment, enforce cardio and weight room safety and etiquette policies, and assist new users with a brief introduction to the fitness areas and equipment while working in the weight room. 
Recruitment period: spring 2023
Application Steps: To begin the application process for an operation attendant position, please attend an information session with members of the hiring committee. The committee will provide you with details and answer questions regarding the position and working at the Rec. The information session is part of the application process. Those who attend and remain engaged throughout the entire session will be given access to the online application.
Personal Trainer
Personal trainers conduct fitness assessments and personal training sessions through one-on-one appointments and small group sessions. They provide fitness orientations, help plan and implement special programs, and act as leaders in the weight room.
Requirements and expectations:
Successful completion of the personal trainer prep course (PEF 340) (or similar training experience)
Obtain a nationally recognized Personal Trainer Certification (must be certified within three months of hire)
Evidence of practical experience in fitness, athletics, or coaching
Preferred: at least one term in a UO PE Weight Training class
Commit to working as a UO personal trainer for a minimum of three terms, including 10 fitness hours per week and attending fitness team meetings.
Recruitment period: spring 2023
Contact Andy Karch, coordinator for fitness programs
Rec Tech
Rec techs perform general maintenance and repairs of PE and Rec facilities, grounds, and equipment. Applicants should have a desire to be active and engaged while at work, and must be willing to think independently and learn. Mechanical inclination is a plus.
Recruitment period: closed
Contact Michael Zennache, trades maintenance coordinator
Rock District Attendant and Route Setter
Rock District attendants provide a safe, inclusive, and welcoming environment for climbers of all abilities. They educate users on safe and effective climbing practices (technique, equipment and theory), enforce safety and etiquette policies, and assist new users with an introduction to the climbing areas and gear.
Recruitment period: ongoing
Contact Kristin Gloystein, coordinator for rock climbing
Webfoot CrossFit Coach
Webfoot CrossFit coaches develop and lead group workouts that utilize safe and effective movements. These classes support health and fitness goals, and are enjoyable and highly motivational for all fitness and skill levels.
Coaches are required to take a 10-week practicum in one of our PE courses and will need a Level 1 CrossFit certification before beginning to coach.
Recruitment period: ongoing
Contact Andy Karch, coordinator for fitness programs
---
SRC Advisory Board
The Student Recreation Center (SRC) Advisory Board is a leadership group of students and faculty or staff that advises the Department of Physical Education and Recreation (PE and Rec) on long-range planning, facility use, policies, user fees, and budget operations. The board represents and voices the needs of UO students to the PE and Rec staff and assists in promoting all of the services, activities, and facilities available to members of the UO community.
Board members serve a one-year term (September–June) and may be re-appointed for a second one-year term. Board members are expected to attend every board meeting each quarter; there are three to five meetings per quarter; members may have one excused absence from a meeting per quarter without consequence. Stipend pay for UO students serving on the SRC Advisory Board and meeting board member expectations is $25 per board meeting; students serving in board leadership positions receive the following stipend pay per board meeting: chair $40, vice-chair $35, and recorder $30.
Board Membership
The board consists of eight students, one faculty or staff member, and three standing ex-officio, non-voting PE and Rec staff members. While the faculty/staff member will fully contribute, all board officer positions are reserved for student members. The eight student board members are appointed by PE and Rec administration in the following areas:
Two students appointed by the associate director for business and operations from students working for the SRC.
Two students appointed by the associate director for physical education from current or former students of physical education classes.
Two students appointed by the associate director for recreation programs from current or former participants of recreation programs and/or SRC student employees.
Two students appointed by the director of the Department of Physical Education and Recreation (or their designee) who is not currently employed by PE and Rec.
Appointed members may be re-appointed for a second one-year term.
For information about the appointed seats, or for general questions about the advisory board, contact Brent Harrison, senior associate director of PE and recreation and convener of the SRC Advisory Board.
Applications for the 2023–2024 Advisory Board are being accepted now through June 16, 2023.
Apply for the 2023–2024 Advisory Board
UO Student Organization Sponsorship Requests
During the academic school year the Student Recreation Center Advisory Board offers UO student organizations funding assistance for reserved use of PE and Recreation space. To request this funding assistance, send board convener and Senior Associate Director of PE and Rec Brent Harrison the following information at least three weeks prior to event date or date of space reservation:
Student organization name
Event name or purpose of reserved space
Space needed
Proposed date, time, duration of reserved space
Purpose of event or program occurring in recreation space
Target audience — who will be attending (include exact or approximate number)
Other details you can provide
Board Meetings
The meetings for each academic term are scheduled prior to the start of the term.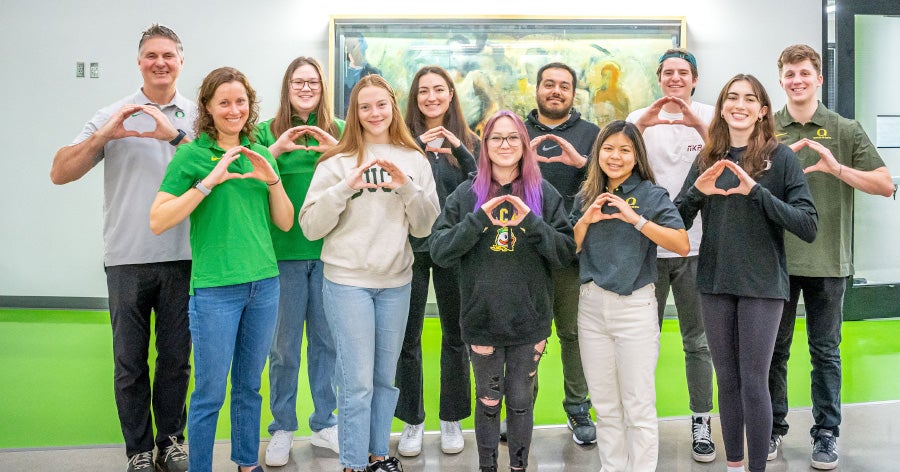 2022–2023 SRC Advisory Board
---
Practicums
The Department of Physical Education offers a wide range of opportunities for students to gain hands-on experience and earn practicum credit in PE. By participating in a practicum, you will have the opportunity to gain practical knowledge and experiential learning by working in a specific area of PE. Becoming involved in practicum gives you the chance to apply information that you have learned in the classroom to real world situations, and it is also a great way to explore personal and/or career interests.
Practicum experiences generally take place in our existing PE classes, thus prior experience and participation in the activity is crucial. Students are expected to attend all 20 class sessions, with up to an hour of out-of-class preparation time required (3 hours per week = 1 credit hour). To earn practicum credit, students must complete paperwork and registration prior to beginning practicum hours. Registration forms are completed with the instructor and must be submitted by Friday at 10:00 a.m. in the first week of each term.
If you're interested in earning practicum credit connect directly with a PE instructor or contact Chantelle Russell, associate director of physical education.
PEL 409 Practicum
An opportunity for students to assist a physical education instructor in our courses. Applicants must have significant experience and interest in the activity, and be willing to assist in many ways. Instructor approval required.
PEL 409 Practicum Coaching
Students need to be coaching during that term for a local organization such as the YMCA or Kidsports. They need to coach for at least four weeks with a minimum of 20 hours. They will need to have a coaching philosophy, practice plans, to be observed twice and need to write a reflection paper.
PEL 409 Practicum Outdoor
These opportunities provide hands-on leadership and teaching experiences to students working towards completion of the Outdoor Pursuits Leadership Training Program. Students serve as course assistants under the mentorship of OPP instructors. Instructor approval required.