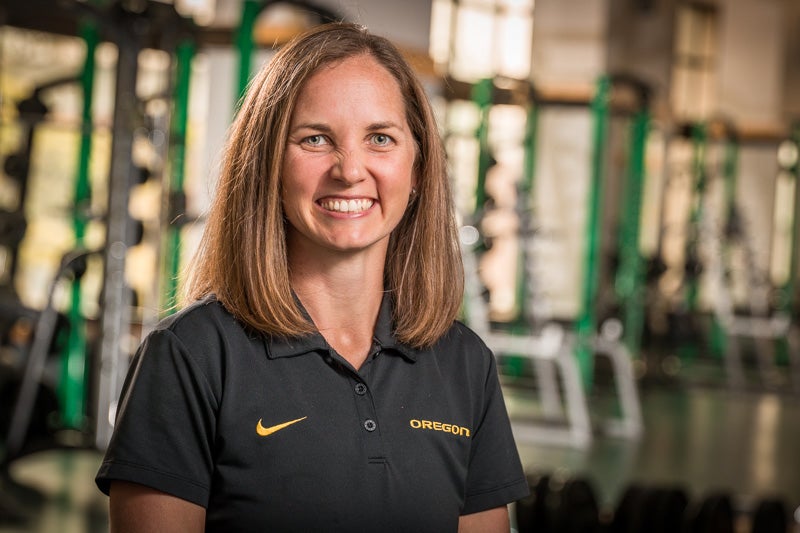 Chantelle Russell
Associate Director for Physical Education
Primary Service: Leadership Team, Physical Education, Student Life Leadership Team
541-346-1364 E-mail
Ask me about…
Strength and Conditioning. I've been participating as an athlete for 8 years and initiated the Webfoot CrossFit program.
Physical Education. This is my area of responsibility, but also my passion. I have participated in PE classes in almost all of our 12 areas.
Self-care and well-being.
Bio: Chantelle's journey in PE and Rec started in 2005 as the assistant director of fitness. In her tenure, she has worked in all areas of our recreational fitness programs, facilities and operations as well as physical education as an instructor and administrator. Although she wouldn't have predicted this career path, she applies her undergraduate degree in physical education – strength and conditioning and her master's in parks and recreation administration in her roles at the UO.
She loves coming to work every day because she has the opportunity to provide opportunities for education through movement, such as teaching Strength and Conditioning, building community, and encouraging others to be their best selves. She loves to serve the UO community to make our world a better place.
She is a proud Canadian, ice hockey player, with a passion for cooking, moving, and being with her family.
If you want to see Chantelle in the classroom, she currently teaches Strength and Conditioning.
StrengthsQuest Top 5: Achiever, Learner, Responsibility, Discipline, Harmony