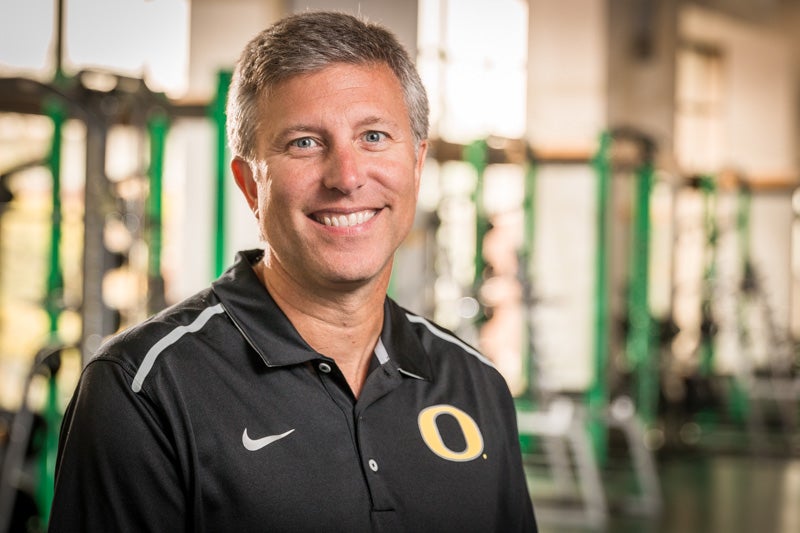 Dave Rubino
Assistant Director for Physical Education, Martial Arts, Team Sports, Running, and Weights
Primary Service: Physical Education
541-346-1059 E-mail
Ask me about…
Teaching and coaching. I have been teaching and coaching for 30 years. Two years at a junior college, and 28 years at the university level, and I just love it!
Sports. I love watching, participating or talking about any sport. I am a sports junkie and can never get enough.
Bio: Dave became an Oregon Duck in the fall of 2001. He is a senior instructor ii/assistant director in the Department of Physical Education and Recreation. He oversees the running, weight training, martial arts, individual activities and team sports areas and also teaches a variety of classes in the team sports, running, weight training and leadership areas.
Prior to becoming a Duck, he taught, operated the fitness center, and coached at Herkimer County Community College for two years and then coached and taught at the University of Wisconsin Milwaukee for 11 years. He obtained his bachelor's degree from Cortland State University in New York and then received his master's degree from the University of Northern Colorado.
Dave loves seeing students succeed and the look of accomplishment is a great reward for him. He enjoys being around college students because he gets to teach them more advanced technical and tactical skills. His favorite class to teach is coaching because students can use the skills taught in class in real life situations. He believes in developing students physically, psychologically, socially, and emotionally.
Dave loves to spend time with his friends and family. He spends a lot of time helping coach his son's sports teams and participating in outdoor activities with his family.
If you want to see Dave in the classroom, he teaches: Jog/Run, 5K I Training, Weights I/II, Basketball II/III, Bocce Ball, Badminton, Coaching I and II.
StrengthsQuest Top 5: Developer, Includer, Achiever, Responsibility, Consistency