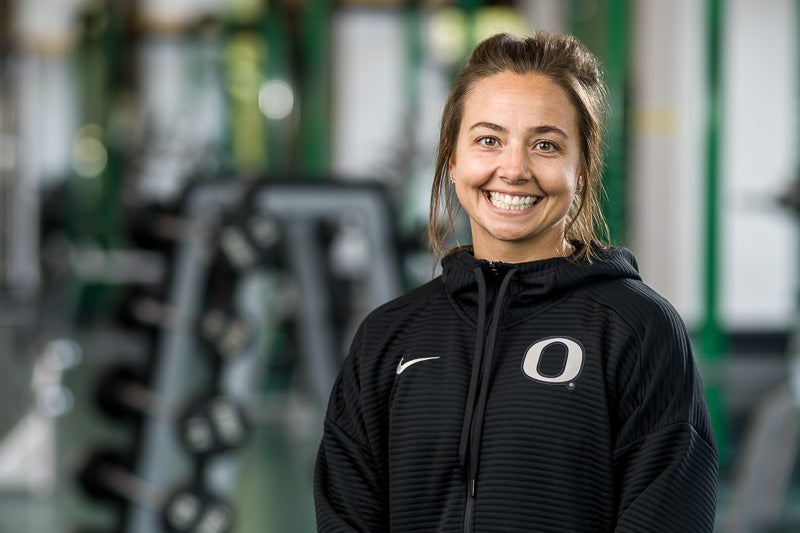 Jessica Campbell
Senior Assistant Director for Well-being and Fitness
Primary Service: Rec Programs, Physical Education
541-346-1058 E-mail
Ask me about…
Group fitness
Fitness classes for credit and non-credit participation
Creating custom group fitness sessions
Bio: As the senior assistant director for well-being and fitness for PE and Rec, Jessica oversees our PE fitness for-credit classes and Rec group fitness programs. Prior to joining the team at the UO, she worked as the graduate assistant for fitness and wellness at the University of Arkansas, where she acquired her master's in exercise science.
Her passion for fitness combined with student development has allowed her to consistently take students to national conferences, assist in their career exploration and networking, challenge them to acquire accredited certifications, and support their ambitions and goals post-graduation. Her love for sports and fitness led her into a career that's instinctive, exciting, and rewarding, while still providing the team atmosphere that she now shares with her colleagues. She can say without hesitation that she loves what she does and each day she looks forward to continued growth and education in her field.
Jessica is also involved in wellness development and programming on Campus (Duck Nest Steering Committee, All Sizes Fit, and Stress Less campus initiatives), Student Development Team, Wellness and Engagement Team, and the Physical Education Team. Outside of work, she loves playing outside, hiking, camping, moving with Yoga and CrossFit, and exploring the beautiful PNW.
StrengthsQuest Top 5: Positivity, Woo, Includer, Belief, Responsibility